Posted by
admin

| Posted in Craps Online | Posted on 02-12-2013
0
When you walk in a c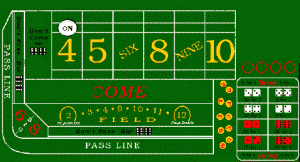 asino, you can often find the craps table by the rowdy crowds around it. And if you happen to come in at a calmer time, look for a green, long table with about four casino workers near it. Now, what do you need to know about this table that's so important to your game play? First, what material makes up the table and how is it designed? Allowing up to 24 players, it is made of felt printed with designs showing the places of bets. A center area is for One Roll bets and Hardways. The ends of the table have places for the Pass Line, Place, Come, Field, and other wagers. Each table end is the same as the other.
The Pass Line covers the outside edge of side betting zones and means the player is betting the dice will pass it. This is a usual wager. On the first throw of the dice, a pass line wager is won if a 7 or 11 come up, but 2, 3, and 12 are losers; any other number than these will be the "point" used for the rest of the game. The Come box is in the upper side sections. A Come bet can't be done until after a come-line roll, or it will be considered a Pass Line bet. Only after the point is established can a Come bet be wagered. Now, Place bets are the numbers behind the Come Line. These wagers only count after a come-out roll. The come-out roll is the initial throw of dice that decides how the rest of the game will proceed. Finally, the field is the middle of the table and right in front of the come line. A field wager only counts for one throw of the dice.
Understanding the craps table may seem hard at first, but with practice, you will know it perfectly.